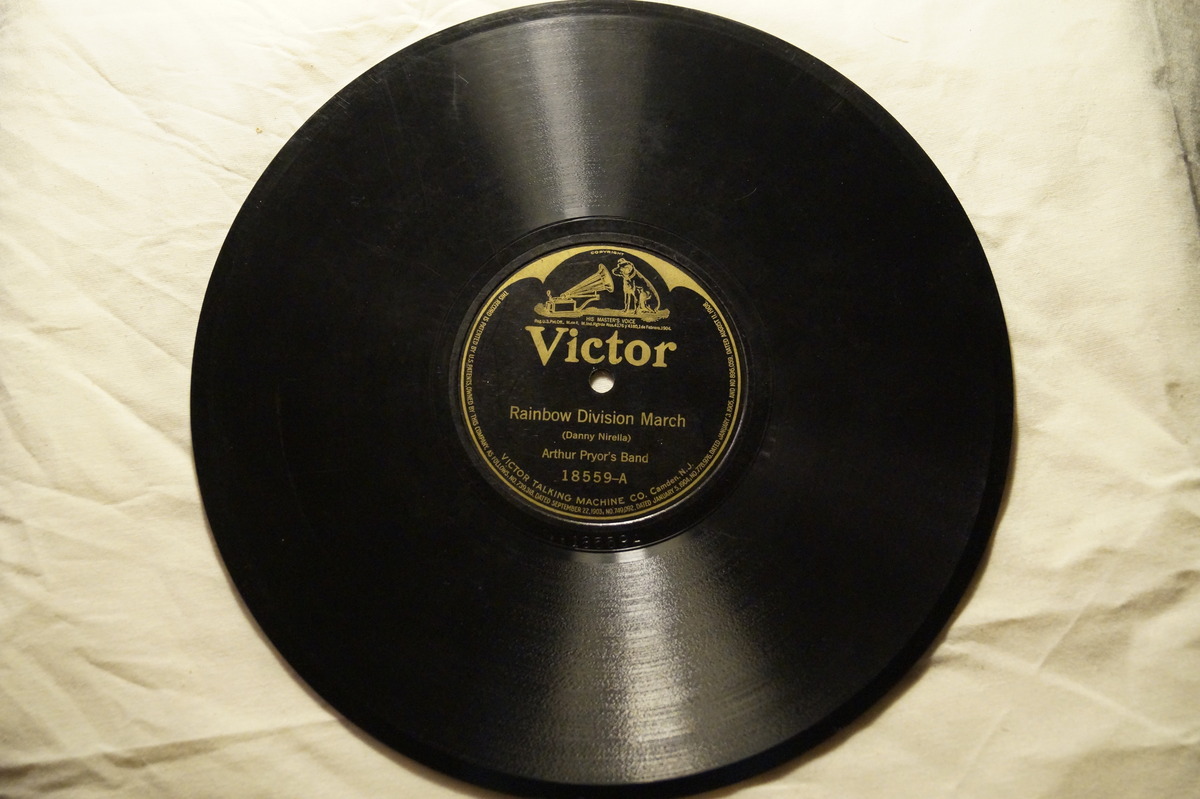 Dublin Core
Title
Six Victrola Records from the Trenches
Description
Tulsa-resident Hugo "Hap" Gruenberg managed to haul a Victrola phonograph to France after he enlisted in the 42nd Rainbow Division of the American Expeditionary Forces in the spring of 1917. The 6 records left from his WWI service days feature 9 songs, which are available for listening below. Gruenberg, then a student at Henry Kendall College (now the University of Tulsa), also kept a diary from December 1917 until he returned to Oklahoma in May 1919. Entries from the diary highlight Gruenberg's profound connection with the music he played and the records he collected in the trenches. He writes of how much his unit enjoyed the music, of scuffles with his captain over keeping it with him, of lending the phonograph out to fellow soldiers, of the times it broke, and about the care he and his friends took to repair it. "Believe me," Gruenberg writes in May 1918 after he gets the Victrola back and borrows some new records, "boys sure welcome it."

The 9 songs (organized by record pairings) include:

-Record 1: "Are You From Dixie? (Cause I'm from Dixie Too)" and "Don't Bite the Hand That's Feeding You"
<ul>
<li><a src="archive/files/Are-You-From-Dixie.mp3">Play: "Are You From Dixie?"</a></li>
<li><a src="archive/files/Dont-Bite-the-Hand-thats-Feeding-You.mp3">Play: "Don't Bite the Hand That's Feeding You"</a></li>
</ul>

-Record 2: "It's a Long Way to Berlin, but We'll Get There!" and "I'd Feel at Home if They'd Let Me Join the Army"

-Record 3: "Rainbow Division March" and "Spirit of Independence March"

-Record 4: "Faust" (an opera by Charles Gounod)

-Record 5: "Le Cid" (an opera by Jules Massenet)

-Record 6: "Le Freyschutz" (an opera by Carl Maria von Weber)

All 6 of the records are 78s, spinning about 78 revolutions per minute, and measure 10 inches in diameter. The first three American records are from the Victor Talking Machine Company brand. The second three, all French recordings, were manufactured by Gramophone & Typewriter Ltd., a British Company. For lyrics, see the attached PDF files.

The songs in this collection capture a dispersed array of social and political positions both before and after American involvement in World War I. Early songs celebrating regional—rather than national—brotherhood like 1915's "Are You From Dixie? ('Cause I'm from Dixie Too)" find revealing counterparts in other recordings like "Don't Bite the Hand That's Feeding You." Though performed in a light, bouncy tempo, the latter song warns immigrants to remember all America has done for them should Uncle Sam ever need something from them in return. Both songs center on the idea of homeland. Southern identification with other Dixie dwellers (hailing from "my own land, that sunny homeland") counters Uncle Sam's harsh reminder for immigrants not to "be ungrateful" or else "go back to your home o'er the sea."

Comparing these early recordings with later songs affords insight into America's evolving and complex ideas of national identity and duty. "It's a Long Way to Berlin, But We'll Get There!" encourages men to enlist and show the Allies what "some real live Yankee Pep" looks like. Another 1917 recruitment song, "I'd Feel at Home If They'd Let Me Join the Army," targets married men and treats war threats of mustard gas and shelling (by now well-known atrocities) with biting humor, claiming they are less frightening than the challenges presented by married life. Of particular interest is how Gruenberg kept these popular American songs grouped together with his recording of patriotic marches and three French opera performances, which he may have acquired during his time abroad. Such a diverse collection offers a useful sampling of the kinds of music American troops listened to throughout their deployment.

According to his discharge papers, Gruenberg saw action in five major battles, including the Champagne-Marne, the Battle of Saint-Mihiel, and the Meuse-Argonne Offensive. He kept his music with him. Rooted in complex and sometimes dissonant messages, these 9 songs reveal the diverse ideological expressions of identity and patriotism articulated throughout the war. In Gruenberg's determination to see these records safely home, this soldier's treatment of the Victrola records also captures the almost transcendent value music assumed in trench warfare.
Creator
Billy Murray
Irving Kaufman
American Quartet
Conway's Band
Arthur Pryor's Band
Léon Beyle
Les Choeurs de l'Opéra avec Orchestre de Paris
Source
McFarlin Library, Department of Special Collections and University Archives, University of Tulsa. 2933 E. 6th St. Tulsa, Oklahoma 74104
Publisher
Victor Talking Machine Company
Gramophone & Typewriter Ltd.
Coverage
United States of America
France
Sound Item Type Metadata
Original Format
Victrola 78s records
Duration
2:25
2:29
3:33
2:25
0:51
3:50
2:33
3:06
2:50